Mission, Vision and Values
Shape Your Tomorrow Today

At St John's Academy, we believe that we all have the ability and the capacity to shape our own tomorrow's today. Our mission is to support all of our learners to Grow in self-confidence, to Flourish in working partnership with one another, and to Fly towards our aspirational goals.
Guided by our core values of Respect, Courage, and Kindness, which draw inspiration from the teachings of Jesus Christ and St John, we strive to create a vibrant and happy learning environment.
In this way, all of our daily efforts support the vision of the Vale Academy Trust, to 'Build Brilliant Futures Together'.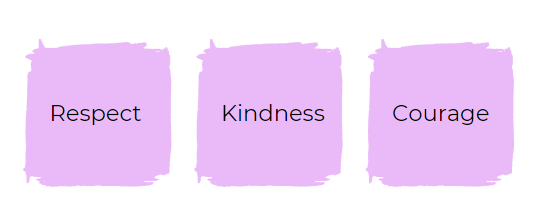 We are a family school at the centre of our growing community. We want St John's to be a welcoming, lively and happy place where children feel secure and enjoy growing up. We believe that positive relationships are fundamental to success, and we strive every day to build meaningful relationships with our children, families, and local community, to work together to give our children the best start in life.
Click on the links to the right to find out more about our values.
Grow
We want our children to be excited, curious, and inspired in their learning. We have high expectations for all children to achieve their full potential through a curriculum that is ambitious, challenging, and fun. Through our aspirational and innovative curriculum and culture of celebration, all of our children grow to be the best they can be. At St John's, we emphasise the importance of a wide programme of memorable and meaningful enrichment experiences that allow children to develop a broad and deep knowledge of the world around them.
Flourish
Flourishing at St John's means that, following Christ's example, children are able to mature together in faith, hope, and love. We know that by building strong foundations, rooted firmly in our values, we enable children to explore what makes them unique and to develop a sense of confidence and purpose. Through securing these firm foundations we prepare our children to achieve full and happy lives.
Fly
By the end of their primary years, we want our children to...
be happy, self-confident, and resilient;
become responsible, mindful, caring, and active members of the community and the wider world;
be able to think and learn independently and develop a love of learning;
feel included and supported to flourish as unique individuals;
be equipped with the learning and life skills needed to be well-prepared for the future.
...ready to 'fly' to the next stage of their St John's journey and onwards in life.